The Ultimate Guide to Content Marketing for Financial Advisors

Becky Swansburg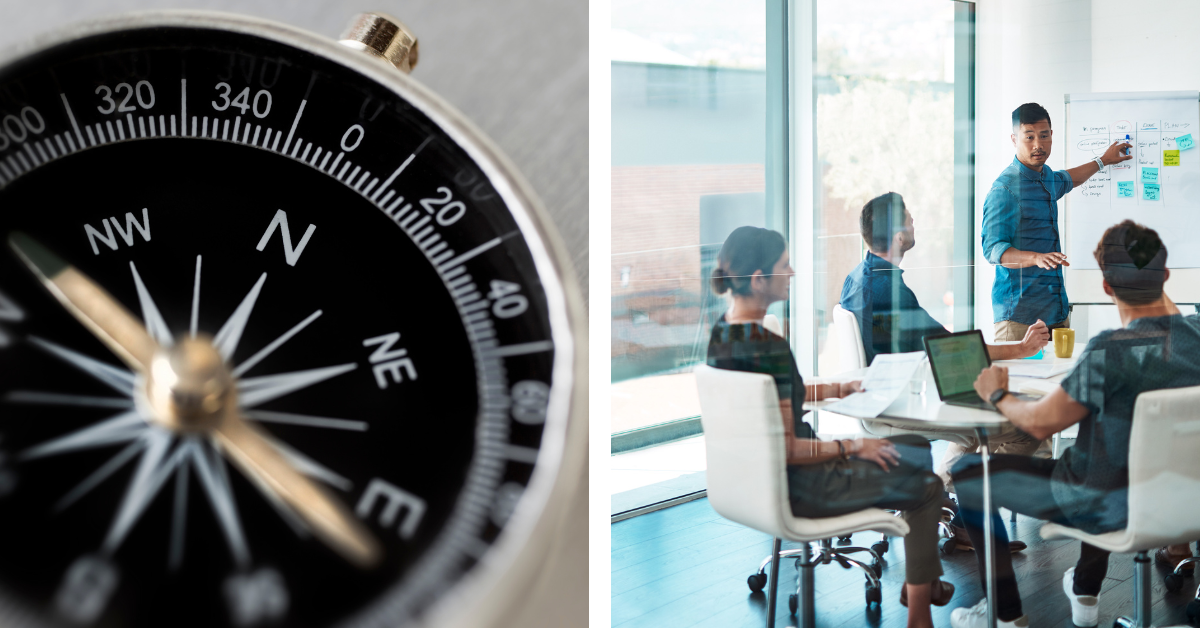 Let's talk about content marketing.

If you're a growth-minded advisor, content marketing is key. In fact, it might become the MVP of your marketing lineup.
So what is content marketing - and what can it do for your practice?
Content marketing involves creating and sharing digital materials like videos, articles, ebooks, podcasts, and blog posts. (Hey, it turns out you're reading some content marketing right now.) The goal of these materials is not to explicitly promote you and your practice, but rather to stimulate interest in your insights and services.
Content marketing is one of financial advisors' most effective lead generation approaches, partly because Baby Boomers and other pre-retiree savers engage with content at high rates.
In fact, according to Entrepreneur magazine, 70% of consumers would rather learn about a brand (i.e. - you and your practice) through content rather than through advertising. And 78% feel they've developed a relationship with a brand after reading their content.
So, if you're in the retirement market, this article is for you. We'll look at some of the best practices for content marketing for financial advisors and how you can implement them in your practice - easily and effectively.
(Looking for a great primer on content marketing in general? Check out this 101 guide from the inbound marketing specialists at Hubspot.)
Best Practice #1 | Show, Don't Tell
When I sit down to write content, I often find myself telling rather than showing. But which is more compelling? Me telling you taxes are a big retirement concern, or me showing you that most savers will owe hundreds of thousands of dollars in taxes during retirement?
Good content tells good stories - this is especially true in content marketing for financial advisors.
Baby Boomers value authentic human connection, and they want to hear real stories about people like them. They want to know about the risks they faced, how you helped them, and how that guidance made them feel. "Case studies" can be a great way to make complex financial topics more relatable to your audience. So, make sure you're showing, not telling.
---
Best Practice #2 | Choose the Right Topics
There are two types of content you'll want to leverage for your marketing efforts:
Evergreen content, which is not bound by time or events. Think: "Top Things to Look for in a Financial Advisor"

Current content, which is about something specifically happening now. Think: "How the Upcoming Election Could Impact Your 401(k)"
Content marketing for financial advisors is made easier because we have ample opportunities for both kinds of content. In financial services, there are opportunities to educate prospects about foundational aspects of retirement planning (asset allocation, income planning, legacy protection). But there is also always something new. Is the market rising or falling? Are interest rates up or down? What's the U.S. debt situation?
If you're struggling to come up with content ideas, try spending 15 minutes brainstorming topics that matter to your current clients or the ones you'd like to attract. This exercise can help you quickly develop several months' worth of engaging content that resonates with your target audience.
Another tip is to google some of the common questions that your clients ask and see what types of content it returns. This can help you understand the kind of content your target audience is looking for and give you ideas for your own content creation.
---
Best Practice #3 | Choose the Right Format and Platform
If you're a retirement advisor, you need to find savers either getting ready to retire or recently retired. And that means your content needs to be delivered in ways that reach and attract savers in their 50s, 60s, and 70s.
Here are some of the best formats and outlets for Baby Boomers and pre-retirees:
Email Marketing - All marketing activities should be aimed at building your marketing list. Email marketing to either a built or purchased list is a low-cost way to deliver content. 74% of Baby Boomers still prefer email as their primary method of communication, unlike younger generations who have shifted to social media and texting.
Newsletters - Electronic newsletters are another way to share content with clients and prospects. And don't assume it has to be a traditional newsletter format, with multiple articles, call-out boxes, and links. It can be just as effective to simply share your thoughts on recent events or provide links to articles you found interesting.
White Papers - These are an effective tool to educate prospects about an important topic. A good white paper helps establish your practice as a leading authority. Bonus: many advisors require prospects to fill out a form before downloading their white paper, which helps them build their marketing list in the process.
For example, download Stonewood's client white paper "5 Ways Taxes Can Rise in Retirement" here.

Webinars - Live or automated webinars are a great way to connect with Baby Boomers, who appreciate video content and are willing to dedicate 30 minutes to learn something of value. While the webinar craze of the early pandemic has passed, webinars are still an incredibly effective tool to attract prospects and convert them to booked appointments. Based on my experience, I've found the top converting webinar topics for Baby Boomers to be anything tax and government-related.
Social Media Posts - While it may surprise some, Baby Boomers are on present social media. In fact, 82% of them are on at least one social media platform, and they spend an average of 27 hours a week online - even more than many individuals in their 20s and 30s. But not all social media is created equal when it comes to content marketing for financial advisors.

Curious to know the primary sites your prospects are

using? Facebook is the most popular platform among Baby Boomers (used by 78% of them), followed by YouTube (67%) and Pinterest (40%).

Don't get overwhelmed - you don't have to leverage all these outlets. And remember - the great benefit of content marketing for financial advisors is the ability to repurpose content across different platforms. Did you host a webinar? Push out the video recording in your newsletter. Post a link to the recording on social media. Write a cold prospecting email inviting readers to watch last week's sold-out webinar.
---
Best Practice #4 | Make it Interactive
A prospect who interacts with your content is much more likely to become a client than one who passively consumes it. So be sure you're giving your audience plenty of opportunities to click and respond.
One effective technique to increase engagement is to embed calls-to-action throughout your content. This doesn't mean halfway through your video you shout: "Book an appointment now!"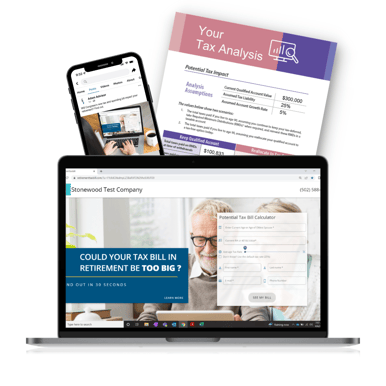 Instead, look for natural opportunities to link your viewer to other relevant content (like, say, this blog post on Lead Gen for Financial Advisors), or make them an offer of value (talking taxes in retirement? Let your prospect run their own Retirement Tax Bill analysis).
Feedback is another great interaction tool. If you share an article with your prospects over email, invite them to hit "reply" and share their thoughts. The more your prospects interact with your content, the more closely connected they'll feel to you and your practice.
---
Best Practice #5 | Optimize your Content for Accessibility
Baby Boomers are aging… which means their eyesight is also declining. It is crucial that your content is easy to locate, read, and interact with. That means using large fonts, high-contrast colors, and clear pictures. If you're creating video content, make sure the audio is loud and clear, and include video subtitles along with the audio.
I personally use something called "My Mom Test." My own mother is a Baby Boomer, so when I create new tax and retirement content, I always run it by her first. Can she easily read it? Is it clear what action I want her to take? Is there anything that would make her give up and close her browser?
It might not be your mom, but be sure to run all your content by somebody in your target audience and listen to their feedback.
---
Best Practice #6 | Collaborative Content
Sometimes, the best content relies on leveraging someone else's expertise for your clients and prospects. When it comes to content marketing for financial advisors, it's all about who's delivering the access - not necessarily who's delivering the content.
That means you don't have to be an expert on a given topic for it to have a BIG impact on your marketing. Are your clients worried about estate taxes going up? Host a joint webinar with an estate planning attorney. There's also value in curating high-quality articles, studies, or reports from reputable sources. While the content isn't yours per se, it demonstrates you're a thought leader who stays informed on the latest news.
Because of my background on Capitol Hill and in the White House, many advisors use my books to educate their clients on tax and legislative risk. They use these books not because they don't know about retirement taxes, but because part of the value they're delivering to clients is access to expert insight. (You can request a complimentary copy of my books here. I'd recommend The New Holistic Retirement for this particular topic. See? I told you this blog post was an example of content marketing…)
---
Best Practice #7 | Go Beyond SEO to Voice Search
Five years ago, if I wanted information on retirement tax strategies, I might type into Google "Best retirement tax strategies for a higher-net-worth saver in her 40s."

Today, I'd start that sentence by saying, "Siri, can you google…"
Baby Boomers tend to rely on voice search technology, which means optimizing SEO for voice search is becoming an increasingly important area for content marketing aimed at financial advisors. If you're creating content that utilizes certain search words, make sure you're updating your strategy for more conversational keywords. Traditional SEO could mean optimizing for text-based searches like "retirement advisor near me." Voice search SEO might mean you should optimize for phrases like "Can you recommend an advisor in Cincinnati?"
---
Successful Content Marketing for Financial Advisors
Content marketing is one of the best ways retirement advisors can build trust with their Baby Boomer prospects. It's also a strategy that can scale with your practice. You don't have to go all-in to get started - what's important is that you pick something (and email campaign) and try it out. As you gain more knowledge about the kinds of content your desired prospects prefer, you can create new content to expand your reach.
One final note - when it comes to compliance, remember that content marketing is still a form of marketing. So, make sure your white papers, webinars, social media posts, and emails are reviewed by compliance professionals with the appropriate oversight for your licensure.