Remember David Letterman's Top 10 Lists? Today's blog post is a throwback to the glory days of the Late Show.
We're excited to share... The Top 10 Ways to Grow Your Practice with Stonewood's Retirement Tax Bill | List Builder & Generator.
You may already know Stonewood's Retirement Tax Bill | List Builder & Generator can be incorporated into your existing marketing strategies, or used to develop new ones. Now, we're giving you a check-list of the top 10 ways advisors like you are using RTB to grow their practice and boost their marketing strategy. Want to learn more? Schedule a demo here.
---
#1

|

Email Marketing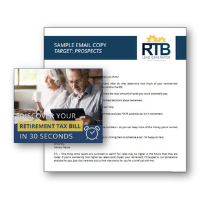 Your customized RTB landing page is perfectly suited for email marketing campaigns – whether to cold leads, warm prospects, or existing clients. Use it in stand-alone emails, include it in your monthly client newsletter, and add it as a "p.s." in other email templates. BONUS: We have pre-built email copy ready for you to use!
#2

|

Digital Advertising

If you're running ads on digital platforms, the Retirement Tax Bill message can help boost conversion. Offer viewers an opportunity to see their potential taxes in retirement – a top-converting message in today's political and economic environment.
#3

|

Print Mailings

Just because your RTB landing page lives on the web doesn't mean your marketing has to. The Retirement Tax Bill message can be delivered through printed mailers, directing interested prospects to your custom landing page to understand their retirement tax bill. Our advice? Create a custom QR code that will take savers directly to your custom RTB landing page when scanned.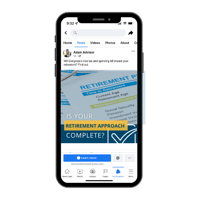 #4

|

Social Media Marketing

If you're active on social media – as an advisor or as a practice – be sure to incorporate your RTB landing page into your social media strategy.

The retirement tax message plays especially well on social media, so be sure to make your posts sharable so clients and prospects can invite others to evaluate their retirement tax bills, too.

The RTB message works well for both organic reach and paid promotional posts. Want a head start?
BONUS: We've developed dozens of social media templates for you to use. Simply upload the graphic, copy the description, and post!
#5

|

Website Lead Capture

When a prospect visits your website, you have a greater chance of them connecting with your practice if you provide something of value in return. An RTB report is the perfect offer. Be sure to incorporate the Retirement Tax Bill messaging and landing page prominently on your website. Some advisors use their RTB page as a pop-up offer to all visitors, or create a special tab in the navigation menu linking to their custom landing page.
#6

|

TV & Radio CTAs

The RTB tax report makes a powerful call-to-action for TV and radio. Offer listeners the opportunity to evaluate their potential taxes in retirement on your TV and radio shows, or use the offer in TV and radio advertisements. BONUS: We've developed a special guide to help you share the RTB story on your TV or radio show.
#7

|

Increasing Client Wallet Share

You likely have clients with additional assets outside your practice. The RTB tool is an effective way to help capture additional funds from your existing AUM and annuity clients. After all, if you've helped your clients mitigate market risk and income risk, now is the time to help them mitigate tax risk, too.
#8

|

Lead Funnels & List Re-Targeting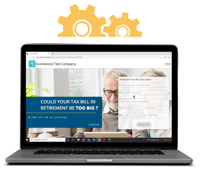 If you're already using any of the approaches above to nurture your lead list, the RTB program will fit seamlessly into your funnels. If you have prospects who have attended a seminar or webinar but have not become clients, downloaded a brochure but not converted to an appointment, or engaged with your content but have not yet become a client, RTB can be the offer that moves them across the finish line. Use your RTB report as a stand-alone offer, or use it as a follow-up for other digital lead activities.
BONUS: Stonewood has done the hard work for you. Download our pre-built email lead funnel, complete with email subject lines, body copy, and follow-up offers.
#9

|

Email Signatures

What's one thing everyone you email sees? Your email signature. Update your office's email signatures to include the question: "How big is your retirement tax bill? Find out here." There's no better way to remind everyone you email about your commitment to helping reduce taxes in retirement.
#10

|

Client Referrals

You want to make it easy for your existing clients to send you referrals. Instead of just asking for a referral, offer a complimentary Retirement Tax Bill Analysis to any of your clients' friends and family who would benefit from understanding this important topic.



Our goal at Stonewood is to help our advisors have their best year ever. That's why we designed RTB with you in mind — making it easier than ever to generate new leads for your practice. We can't wait for you to put this powerful new tool to work!

Not an RTB user yet? Schedule a demo to learn more. Or, run your own retirement tax bill analysis.